IAI
SINGLE AXIS ACTUATORS, MULTI-AXIS CARTESIAN SYSTEMS AND SCARA ROBOTS
Intelligent Actuator (IAI) is a leader in linear electric actuators and low cost, high performance SCARA robots. IAI is also leading the transition away from pneumatics to cost-effective, low-maintenance, and fully programmable electric cylinders.
Featured Technology
ELECYLINDER
The easy ELECYLINDER from IAI is designed for simplicity from start-up to maintenance. Speed / Acceleration settings can be set in just 5 minutes. No time-consuming programming is necessary. You can also operate it with ON / OFF signals, like a solenoid valve.
Start and end points can be set at any value
Built-in controller requires no control panel space
Reduces electric bills, the higher the operational frequency, the greater the savings
Download ELECYLINDER Product Guide
IXA SCARA – Fastest in the Industry!
The high-speed IXA SCARA Robot holds the fastest cycle times for the IAI robotics line and yet achieves a lower price than previous SCARA models. The arch motion smoothly blends both horizontal and vertical motion to accomplish continuous high-speed cycle times. The new SCARA robot is even more affordable than previous models. Plus, it offers even better performance and functionality.
Fastest in the Industry
Achieves lower price
Low Vibration, accurate positioning
Equipped with a battery-less Absolute Encoder as standard
Download IXA SCARA Robot Product Guide
IAI Product Solutions
IAI Tools & Downloads
IAI Product Videos
RCP6 Series (Robo Cylinder) Presentation for Automation Machine Design
IAI Wrist Unit with ZR Unit (Rotary Unit) and Cartesian Robot - Multi Axes Electric Actuator
IXP PowerCON SCARA Robot
What Are IAI Products?
IAI offers a range of product solutions to meet your needs on the factory floor. The company's solutions focus on pneumatic-free electric actuator solutions to help improve overall productivity and energy efficiency for factories all over the globe. Founded in Japan in 1976, the company now operates through Europe to meet critical industrial needs around the world.
With solutions from IAI, you can maximize automation performance with energy-efficient, dependable, and widely compatible products. IAI robotics, actuators and servo offerings can deliver innovative, quality output for your high-demand operational needs. With operating branches worldwide, IAI provides dependable products for various operating needs across industries while streamlining the move toward increased automation.
Advantages of IAI Solutions
Optimized industrial robots and electric actuator solutions from IAI can meet the needs of several different industries, particularly in the manufacturing sector. IAI products provide increased efficiency and precision for various needs across production lines, helping to deliver high-quality, consistent, and reliable output. Key markets that commonly implement IAI products include medical, pharmaceutical, automotive, and electronics production.
Companies choose IAI for several different operational benefits:
Clean room-compliant and IP-protected models available
High-quality products and easy usability
Low operational maintenance requirements
Compact design for various operating environments
Why Choose Electric Actuators Over Pneumatic Alternatives?
Using electric actuators is becoming an increasingly crucial trend for various industries, as the electric product solution can streamline operations and improve overall cost-efficiency while optimizing product output. Many companies choose IAI electric actuators for greater usability and reliable performance in demanding applications.
With pneumatic-free product solutions, you can gain advantages including:
Optimized energy efficiency: Pneumatic-free automation is considerably more energy-efficient, allowing you to conserve resources and see better returns in your day-to-day operations.
Easy programming: Electric actuators facilitate fast and convenient programming to best support your applications.
Seamless integration: With electric IAI actuator solutions, integrating your current systems is easy and secure.
Decreased maintenance: Using electric actuators requires significantly less maintenance than pneumatic cylinders to get consistently optimized performance and longer actuator lifetimes.
7 Benefits of Electric Actuators
1. Multiple Positioning
With the ROBO Cylinder®, you can achieve positioning of up to 1,500 points and a repeatability of ±0.02mm.
Benefit - Use one assembly line to handle a variety of products and achieve higher quality production.
---
2. Push and Hold
The push force of IAI actuators can be easily adjusted by changing the position data values. The push force can also be set to constant. This function is perfectly suited for press fit applications and parts holding.
Benefit - Push and hold hard or soft materials equally well without damaging your products. Great for press fit and clamping applications.
---
3. Acceleration / Deceleration Settings
Set the acceleration and deceleration independently on the ROBO Cylinder®.
Benefit - Improve cycle time and drastically reduce part defects. Produce more in less time.
---
4. Zone Output
The ROBO Cylinder® can output a signal when it reaches a preset range, all without a need for external sensors. The zone output function allows the ROBO Cylinder® to shorten cycle time, output a danger area signal and can be used for a variety of applications.
Benefit - Save yourself time, money and effort of adding cumbersome, external sensors.
---
5. Pause Input
Unlike pneumatic systems, ROBO Cylinders® are capable of stopping at any point of the stroke during operation.
Benefit - This allow for collision prevention and greater safety for operators and equipment.
---
6. Incremental / Decremental Moves
When performing continuous movement with uniform pitch, repetitive movement is possible from data of a single position.
Benefit - This function can speed up programming and reduce I/O count.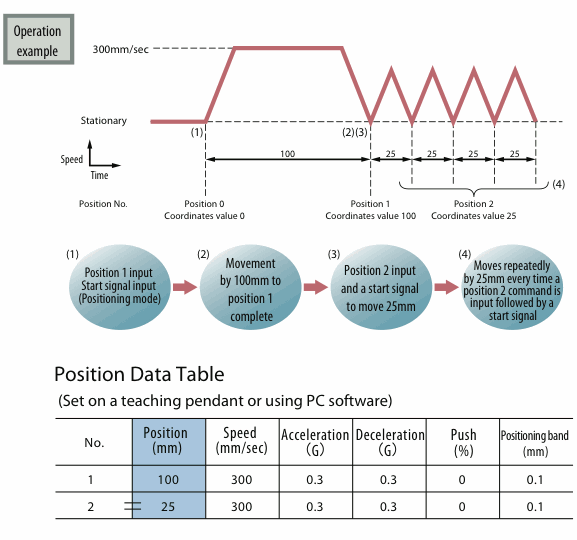 ---
7. Speed Change During Movement
Easily set a position band and change your speed during movement.
Benefit - Improve cycle time and minimize product defects, resulting in higher quality production and ROI.
Types of Electric Actuators
Slider Type
The slider on the top of the main unit works in the shape of a standard electric actuator. Ideal for replacing the rodless air cylinders.
Table Type
The table on the top of the main unit of Electric Actuator can be used for the actuating motion. Ideal for replacing the table type air cylinders.
Radial Cylinder
Radial cylinder type of Electric Actuator can be a replacement for rod-type air cylinder. Built-in ball circulation type linear guide allows it to receive moment load.
Rod Type

Rod type of Electric Actuator can be a replacement for rod-type air cylinder. The work piece can be set using the thread part of the rod tip.
Get Customized Solutions With Gibson Engineering
IAI is the established world leader in linear electric actuators and low cost, high-performance SCARA robots. With a full range of Robocylinders and Elecylinders IAI actuators are providing a more cost-effective, lower-maintenance, and significantly more programmable solution for users previously relying on inefficient and unreliable pneumatics products.
Gibson Engineering partners with the company as a select vendor to deliver the IAI robots, servos, and actuators you need for your critical operations. Working as an extension of your enterprise, we offer expert engineering solutions to help you optimize automation across your production lines while getting the right products for your unique needs.
We represent various technologies and have a wide selection of industry-leading manufacturers to help us provide the best options for your automation applications.
If you want to extend your operating capacity, drive performance, and boost efficiency rates, partner with us for trusted engineering support. Contact Gibson Engineering to see what IAI robot & actuator technologies can do for your next application!