The Parker Electromechanical Automation Division is the leading global manufacturer of components and systems designed to control motion, flow and pressure in all types of machinery. Parker offers more than 1,400 product lines that control motion in 1,000 industrial, mobile and aerospace markets. They are the only manufacturer to offer customers a choice of hydraulic, pneumatic and electromechanical solutions.
Parker Product Solutions
The Parker ETH Series is the next generation version of the well known, widely used ET Series. The ETH design offers unrivaled power density due to larger screw and bearing designs in smaller packages. The result is a product that offers increased force output from a given frame size or increased product life at the same force output.
3 profile sizes (ISO 32, 50 & 80)
Oversized ballscrews and thrust bearings
4-5X higher force or 10X longer life
Maximum thrust: 7000 N
Maximum stroke: 1.6 m
Maximum speed: 1.7 m/s
Parker Hannifin's High Moment Rodless linear actuator series is one of the most user friendly and versatile actuator lines on the market today. With 5 different frame sizes, 2 different drive train options, multiple mounting and carriage options, and an IP54 protective cover option, along with a multitude of other customizable features the HMR was truly designed with flexibility in mind. Guided by two precision square rail bearings, the HMR has enormous moment and payload capacity bundled in a low profile, yet sleek package. The options of either a high-efficiency timing belt drive or a precision ball screw with multiple lead options allow the user to maximize performance within their system.
5 profile sizes- 085, 110, 150, 180 and 240mm
Dual drive train- Precision Ground Ball Screw or High Efficiency Timing Belt
Load capacity up to 26,600 N
Max thrust to 5,560N (Screw) and 4,000N (Belt)
Standard strokes up to 4000mm (Screw) and 6000mm (Belt)
The HD Series Linear Positioners are designed for OEMs, Machine Builders, and End Users needing a robust positioning solution. The HD Series is easy to apply, easy to install, and easy to maintain. The robust design begins with a deep channel extruded body and carriage that provide exceptional beam strength and carriage stiffness. The linear bearings and ballscrews are self lubricating, precision components with long life at 100% duty operation. The HD Series also includes IP30 rated belt seals that protect the interior components from debris in tough environments.
The 400XR Precision Linear Tables offer precision positioning, reliable performance, high strength, and unmatched versatility, with an unrivaled array of features and options easily matched to fit any application. Premier performance, modular compatibility, and quick delivery have made these tables the perfect building blocks for cost-effective multi-axis systems. Modular flexibility distinguishes the 400XR family from all others allowing each unit to be easily configured to meet unique requirements from the very basic to the highly complex.
With the LCR Series pre-engineered positioners, OEMs can significantly reduce their time to market with minimized design, procurement, manufacturing, assembly, and qualification of the many parts necessary to build a linear motion axis from scratch. With "build it yourself" linear axes, all the different parts required to build the axes must be ordered, tracked, received, inventoried, assembled, and tested. The LCR is a pre-tested, ready to use solution.
22, 30, and 45 mm frame sizes
Stepper or servo motor options
Integrated drive option
Rugged square rail design or economical slider bushing design
HLE Electromechanical Positioners are designed to rapidly shuttle payloads to multiple locations along a linear travel path. A unique composite roller wheel bearing design is coupled with a timing belt and pulley drive mechanism to provide long quiet travel at high speed and high acceleration. These proven performers (thousands of units in operation worldwide) serve as the primary building blocks for Parker pre-engineered gantry systems or customer designed multi-axis automation systems.
Standard travel up to 8 meters (longer available)
Four cross sectional sizes to choose from – 60,80,100, or 150mm
Load capacities up to 600 Kg
Sealed roller wheel bearings for long service life
IP30 strip seal
The MX80S low profile miniature positioner offers reliable linear positioning for space restricted applications. It can be driven by a 2mm lead precision ground ballscrew or a high efficiency PTFE coated leadscrew offered with 1mm, 2mm, and 10mm leads and can be driven by either a servo or stepper motor. The MX80S can include digital limit/home sensors and is offered with an attractive black anodize finish or can be provided with a clean room preparation.
Miniature Size – Low Profile (35 mm high X 80 mm wide). Normal or cleanroom environments
Multi-axis platform. Selectable travels: 25,50,100,150 mm. Resolutions: 1.0; 2.0; or 10.0 mm leads
1.5µm Bi-directional Repeatability
The MX80m Stages are offered as free travel or micrometer driven units with 25mm or 50mm travel. They include innovative tooling features to make mounting and precision alignment quicker and easier. A hardened steel master reference surface is provided along the side of the stage to allow fixturing or other tooling elements to be precisely aligned with the actual travel path. Dowel pin holes are provided on the carriage top for repeatable mounting or tooling. Also available are custom features such as a steel body design, vacuum prepped units, and anti cage creep bearings for high dynamic applications up to 150mm travel.
Parker's XFC Series an Extreme Force Electric Thrust Cylinder featuring roller screw, drive technology. This industrially hardened cylinder product utilizes an all steel construction and is manufactured to standard metric hydraulic tie rod design. The resulting cylinder offers significantly greater levels of control in addition to being an energy efficient fluid power substitute. Utilizing roller screw technology allows the XFC to achieve far greater thrust capacities than typical electric cylinders; a maximum thrust up to 356,000N (80,000lbs). The key to the roller screw is the utilization of planetary rollers in place of typical ball bearings providing an increased number of contact surfaces between the screw shaft and the roller nut, yielding greater stiffness and load capacity and making it ideal for shock loading applications.
Parker RIPPED ironcore linear motors, with their patented anti-cog technology, produce the large forces needed for many industrial applications – without the roughness associated with traditional ironcore linear motors. With forces ranging from 13 lbf (57.8 N) continuous up to 1671 lbf (7433 N) peak, the RIPPED family is well suited for a broad range of extremely demanding applications. Parker offers modular magnet tracks for unrestricted travel length. The RIPPED motor connector modules allow quick and easy installation while reducing overall maintenance costs. Ultra-high-flex cables come standard. Virtually cog-free operation combined with powerful ironcore technology make the RIPPED family of motors a superior choice for affordable high-force, ultrasmooth motion.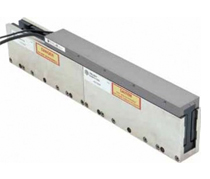 Parker's I-Force Ironless Linear Motors offer high forces and rapid accelerations in a compact package. With forces ranging from 24.5 N (5.5 lbf) to 878.6 N (197.5 lbf) continuous up to 108.5 N (24.5 lbf) to 3928 N (883 lbf) peak, the I-Force family offers a superior combination of performance and size. The I-Force patented I-beam shape with its overlapping windings allows for a higher power density in a smaller motor, improved heat removal, and added structural stiffness. In addition, the ironless (or air core) linear motor design has no attractive force toward the magnets. This allows for easy installation and zero cogging during motion. Ultra high-flex cables come standard with I-Force motors. In addition, Parker offers modular magnet tracks for unrestricted travel length. Incredibly smooth motion, high precision and high force density make the I-Force linear motors an ideal solution for your demanding positioning requirements.
Parker Trilogy's I-FORCE linear positioners utilize our high-performance I-Force ironless linear motors in a pre-engineered, easily integrated, ready-to-run package. The principal design goal for these positioners is to achieve high performance at an economical cost while preserving the design flexibility to accommodate customization. Trilogy's positioners have selectable single- or dual-bearing to match the performance and cost requirements for each application. In addition, they are designed to connect together using transition plates for XY or multi-axis configurations. Options include a variety of cable management systems in addition to bellows and hard covers. Flexibility, multi-axis compatibility, and ease of customization make the I-Force linear positioners a superior choice for high performance and value.
The 400LXR Series linear servo motor tables are pre-engineered "plug and play" modules that combine slotless linear motor technology with performance matched mechanical elements to provide, high acceleration, high velocity, and quick settling, with accurate, highly repeatable positioning. Offering an unrivaled range of features, sizes, travels, and ease-of-use options, these tables make it easy to size, select, and integrate a "best fit" linear motor solution. An innovative cable management system (with a convenient "pass-through" for user requirements) spearheads the list of selectable options which includes drives, encoder resolutions, Home and Limit sensors, cleanroom compatibility, pinning and more.
Parker's Electric Thrust Tubular linear motor actuator series (ETT) is a tubular-style linear motor offering a unique solution for machine builders, OEMs, and users alike. The ETT's linear motion is directly generated without the need for mechanical transmission elements like ball screws, toothed belts and gearboxes. The body of this actuator houses the motor stator, with the magnets embedded in the moving rod, making it a direct-drive, rod-style thrust actuator.
ETT is a direct thrust linear motor actuator, ideally suited for all kind of linear handling and pick & place applications. It is a cost-effective and energy-efficient alternative to pneumatic cylinders in applications that demand greater flexibility and control.
Parker Videos
mSR Miniature Linear Stage