Pepperl+Fuchs
INDUSTRIAL SENSORS. RFID, INDUSTRIAL MONITORS & HMI TERMINALS, IS BARRIERS
Pepperl+Fuchs is one of the world's largest manufacturers of electronic sensors and is a world market leader for intrinsic safety and explosion protection technology. We've been setting the standard in quality and innovation for the world of factory and process automation for over 70 years.
Factory Automation
The Factory Automation Division is a leading manufacturer of industrial sensors designed to address specific market needs on a global basis.
Product Solutions
P&F inductive proximity sensors are used wherever reliable, noncontact detection of metallic objects up to a distance of 100 mm is required. Pepperl+Fuchs' portfolio of cube-style standard sensors offers the widest variety of global approvals.
Their broad portfolio of cylindrical sensors are available for all supply voltages (DC, AC, universal current) and output signals (analog, digital, and AS-Interface). A wide range of designs, materials, cables, and connectors means the right solution is available for every application.
P&F capacitive sensors are the perfect solution for detecting nonmetallic objects and substances. Whether for liquids, granules, paper, or wood, they reliably monitor the fill level in production processes. Particularly rugged, durable versions made of stainless steel or chemically resistant housing material are available for use in harsh industrial environments.
Pepperl+Fuchs offers an optimized portfolio of magnetic field sensors with cylindrical and cube-style housings in different designs and sizes. Versions with sensing ranges of up to 70 mm, high switching frequencies of up to 5,000 kHz, and a wide range of output and connection options ensure the optimal solution for any application requirement. Sensors are available in plastic and stainless steel, and special NAMUR versions enable use in hazardous areas.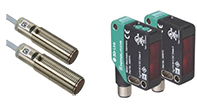 Extremely long sensing ranges and high signal strengths can be achieved with P&F's thru-beam sensors because the light emitted from the emitter reaches the receiver directly. These sensors are capable of reliably detecting almost any object. The angle of incidence, surface characteristics, color of the object, etc., are irrelevant and do not influence the functional reliability of the sensor.
P&F retro-reflective sensors provide a longer sensing range when compared to diffused sensors. In some units a visible red LED is used which aids in the installation and alignment of the reflector. A polarizing filter enables the trouble-free detection of glossy and high reflective objects.
Their clear object detection sensor is a special retro-reflective mode photoelectric sensor that detects clear objects ordinary retro-reflective sensors may not.
Excellent for part presence and product height applications, P&F's diffuse mode sensors, also known as proximity sensors, are very useful in space restrictive locations. Available in a variety of sensing modes including; background suppression, foreground suppression and background evaluation.
P&F fiber optic sensors provide a sensing solution for applications involving small targets or unfavorable conditions. Fiber optic sensors & cables can be used in much smaller areas, in harsher environments, at temperature extremes that ordinary photoelectric sensors could not withstand.
These fiber optic sensors come in a variety of sizes and shapes ranging from small DIN-rail mountable units to 18mm cylindrical housings to full-size limit switch housings. The sensors are available with numerous outputs, digital displays and a wide assortment of cables to choose from.
P&F contrast sensors are characterized by a low contrast resolution, a high degree of switching reliability when differences in contrast are minimal, short response times, and insensitivity to fluctuations in height and angle on the material web. These sensors are used for precise object positioning in printing machines, packaging plants, and labeling machines in the food, beverage, and pharmaceutical industries.
P&F color sensors operate on multicolored backgrounds with an exceptional degree of reliability. The sensor periodically scans the target material on the R, G, B color channels in order to detect the taught in color. Three different colors can be taught in and recognized in parallel. Color sensors are used to identify minute color variations for sorting, positioning, and quality control.
P&F offers a complete sensor family based entirely on the superior Pulse Ranging Technology (PRT). The modern Pulse Ranging Technology (PRT) delivers better parameters at a lower cost. These sensors offer long range, accuracy and insensitivity to extraneous.
Distance sensors are available in several formats including' 2-D laser scanners, multi-ray LED scanner, also known as 2-D LIDAR sensor, multi-layer 3-D LIDAR sensors, and DuraBeam laser technology.
P&F offers retroreflective and diffuse mode ultrasonic sensors. With diffuse mode sensors, the runtime of the ultrasonic signal from the sensor to the object is evaluated. Tthe measured object distance is provided either as an analog signal, a binary switching signal, or in digital form via an interface.
In retroreflective mode, the ultrasonic signal is constantly reflected by a permanently installed reflector. Any change to the ultrasonic signal caused by an object located between the sensor and reference reflector results in an output change.
P&F thru-beam ultrasonic sensors use separate emitter and receiver transducers. Their significantly higher switching frequency also makes thru-beam sensors suitable for a wide range of high-speed applications. Other features include; reliable detection of transparent materials, adjustable sensitivity and available stainless steel housings.
P&F double sheer sensors quickly and reliably detect a double sheet or a splice in the material. Thin papers with a density of 10 g/m² up to cardboard with a density of 2000 g/m² can be monitored as well as the detection of thin plastic or metal films. An automatic adjustment for the switching thresholds allow for changing ambient conditions.
Pepperl+Fuchs' inclination sensors reliably detect inclination angles in factory automation and mobile equipment applications. They are an ideal solution for leveling mobile work platforms, for instance. The sensor continuously monitors the platform's incline and indicates when readjustment is necessary.
F99 series acceleration sensors monitor strong vibration and acceleration in plants. This makes them an ideal solution for monitoring a wind turbine installation. When a set mechanical vibration limit is exceeded, the system shuts off to avoid damage.
The F99-Fusion inertial measurement unit has been specially developed for inclination and acceleration detection in dynamic applications. It provides 360° measurement along six axes. An intelligent Sensor Fusion Algorithm compensates for external acceleration and opens up new possibilities.
Pepperl+Fuchs offers a large selection of industrial Ethernet components that can be safely and reliably integrated into your plant and network infrastructure. They ensure fast and transparent data transfer in demanding industrial plants and are an essential building block for cloud computing and Industry 4.0.
Industrial Ethernet switches, serial gateways, and OPC UA standard IO-Link masters from Pepperl+Fuchs Comtrol bridge the gap between the lowest sensor/actuator level and higher-level cloud systems.
The actuator-sensor interface (AS-Interface) replaces conventional wiring technology on the sensor-actuator level. P&F's master with gateway-function controls the AS-Interface system and transmits process data to all types of higher-level control in a standardized I/O map. The AS-Interface adopts the role of a conventional I/O card in the controller, which allows a simple changeover to the AS-Interface system.
AS-interface modules form the link between actuators/ sensors and an AS-Interface. Modules with different numbers of inputs and outputs are available for control cabinets or field applications.
Pepperl+Fuchs offers you an end-to-end IO-Link system solution, which includes a wide range of IO-Link sensors as well as an Ethernet IO module with integrated IO-Link master. This combination facilitates seamless communication between the IO-Link devices at field level and higher-level systems at management and control levels.
Ethernet IO modules with integrated IO-Link master facilitate reliable, efficient communication between management and sensor/actuator levels as they assume a gateway function between the Ethernet and IO-Link.
Pepperl+Fuchs offers a wide range of intelligent sensors with an IO-Link interface. From photoelectric light barriers, light grids and distance sensors to ultrasonic sensors, right through to inductive position measurement systems—all of these devices combine the advantages of IO-Link and increase the efficiency of your plant processes.
P&F absolute rotary encoders provide a distinctly coded numerical value for each shaft position. In positioning tasks in particular, the absolute encoders relieve the controller of computation tasks and keep costs down by eliminating the need for additional input components. The Pepperl+Fuchs rotary encoder portfolio includes a varied range of current interfaces for absolute encoders including Parallel, DeviceNet, Ethernet, PROFIBUS, PROFINET and AS-interface.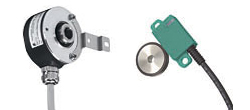 P&F incremental rotary encoders supply a certain number of pulses for each shaft revolution. Speed is measured by counting the pulses for a period of time.Dual channel quadrature output encoders feature two signal outputs that are 900 out of phase with each other. This permits the controller to determine direction of rotation and perform bi-directional positioning tasks.
In addition, three-channel incremental encoders have a third signal channel (known as "zero", or reference, signal) that provides a single pulse for each revolution.
P&F cable pulls enable a rotary encoder to measure linear motion by providing a cable that is pulled in a straight line by the application. From compact models that are designed for use in simple applications to rugged, heavy duty versions for extremely harsh environments, this product portfolio provides accurate measurement, durability, a long service life, and is flexibly integrated into any environment.
Process Automation
The Process Automation Division provides process industry companies all over the world with proven components and tailor-made solutions for a diverse range of applications.
Product Solutions
Intrinsic safety barriers from Pepperl+Fuchs limit the energy that is supplied to a circuit and protect hazardous areas from excess energy. By limiting energy to a safe level, intrinsically safe circuits prevent the ignition of potentially explosive atmospheres. In addition to their explosion protection function, isolated barriers offer galvanic isolation to protect measurement and control circuits from signal distortion and dangerous surges.
Zener barriers prevent the transmission of excessively high energy levels from the non-explosion hazardous area to the hazardous area. P&F zener barriers provide cost saving Ex-protection for various applications in process automation systems. They are available with high density up to 2 channels / 12,5 mm width. Variants with field replaceable fuses provide a convenient means of disconnecting or open-circuiting the instrument loop without interfering with the wiring, making commissioning and maintenance operations much easier.
The K-system comprises signal conditioners for signal transfer between control system and safe area as well as isolated barriers for communication with field devices in hazardous areas. They are preferred for these kinds of mixed applications. These signal conditioners protect signal transfer between field devices in safe areas and control systems by galvanic isolation of the loop.
The SC-system is a signal conditioner product family for applications without hazardous areas on the field side. SC-System components include; Modules for analog and digital signals, transmitter power supplies, isolated amplifiers, passive isolators, signal converters, and switch amplifiers.
Pepperl+Fuchs' surge protection modules reliably divert surges and currents to ground and protect people and machines against possible negative consequences. The product range provides you with powerful surge protection solutions for various applications and includes devices for signal line protection, supply line protection, fieldbus, and wireless solutions.
HART Interface Solutions from Pepperl+Fuchs consist of two HART Multiplexer Systems for multiple signal loops and a HART Loop Converter for single loop applications. For a single loop solution, the HART Loop Converter allows access to all process variables provided by a field device and transfers them to conventional 4...20 mA loop. This enables it to make use of the hidden measurements done by many field devices and feed them to conventional DCS Systems.
P&F modular remote I/O systems transmit process data from safe or explosion hazardous areas by connecting binary and analog sensors and actors to the control system via a bus interface.
FB remote I/O is certified for mounting in Zone 1, placing the remote I/O system close to field devices. This modular signal conditioning system allows you to interface signals from the field with a control system located in the non-hazardous area via Ex i or Ex e field connections.
LB remote I/O is certified for mounting in Zone 2, Class I/Div. 2 explosion-hazardous areas. This modular signal conditioning system allows you to interface signals from the field with a control system in the non-hazardous area via Non-Ex or Ex i connections.
Fieldbus interfaceprovides seamless data communication between the plant and control system while supplying power to all field devices. FieldConnex is fieldbus connectivity. From power supplies to fieldbus terminators to fieldbus barriers – let our experience deliver reliable, valuable, and cost-effective products to you. Long component service life protects your investment and increases the efficiency of your application.
The enhanced PS3500 power supplies provide N+1 redundancy, high immunity, and industry-leading efficiency for demanding industrial environments. N+1 power redundancy provides a foundation of uninterrupted process power, increasing process availability and controlling system downtime. This affordable and robust redundancy method guarantees that system functionality continues even during a supply failure.
P&F K-System's din rail power supplies convert a 120VAC or 240VAC input to 24VDC, and can be used in combination with power feed modules. The power feed modules snap to the power rail and provide it with a reliable 24VDC signal. The combination of a power rail, power supply, and power feed module provide a tremendous amount of versatility, simplifies wiring, and reduces wiring expenses.
FieldConnex® fieldbus power supplies combine the digital control signal with the supply power for the field devices on one two-wire cable. Additionally they offer many hiqh-quality features such as redundancy, galvanic isolation and advanced diagnostics. The fieldbus power supply provides power for the field devices and enables communication between the field devices and the control system via one common cable.
The Pepperl+Fuchs Bebco EPS Type X purge system reduces the classification within the protected enclosures from Division 1 to non-hazardous. General-purpose equipment can be operated within the protected enclosure. The Type X purge system is fully automatic and performs critical purging, pressurization and monitoring of the protected enclosure. It is designed according to NFPA 496 and ISA 12.4 standards.
The Pepperl+Fuchs Bebco EPS Type Y purging system reduces the classification within the protected enclosure from Division 1 to Division 2. All equipment used within the enclosure must be Division 2 rated. The EPS 3000 series, Type Y purging system will purge and pressurize the protected enclosure and maintain pressure within the enclosure. The 1000 series Type Y purge system is rated for Class I, Division 1 to Division 2 area applications or Class II, Division 1 to Division 2 applications.
The Pepperl+Fuchs Bebco EPS Type Z purge and pressurization systems provide easy selection, installation, and operation for enclosures located in Division 2 / Zone 2 hazardous areas. The Type Z solutions consist of a control unit, vent, and solenoid valves. The combination of automation and configurable functions support even the most difficult applications.
WirelessHART based network offers several modules to connect sensors to a control system or asset management system with a wireless network. The WirelessHART gateway, which establishes the wireless connection to the network. It offers one or more interfaces for host systems (RS 485, Ethernet, PROFIBUS) and is equipped with "Network Manager" and "Security Manager". The WirelessHART gateways provide the connection to DCS or Asset management systems with an Ethernet and RS485 interface, which can transfer data via HART or MODBUS protocol.
WirelessHART adapters can be connected to every conventional HART or 4 mA … 20 mA field device directly or with a short cable. They read the data of the field device via HART or translate the 4 mA … 20 mA signal to a digital value and transmit the data to the WirelessHART network. These highly flexible solutions turn every field device into a WirelessHART field device.
The WirelessHART temperature converter is a field device that is already equipped with a WirelessHART interface. In this case, the 4 mA…20 mA interface is replaced by an antenna.
The VisuNet GXP industrial monitor system stands for a modular, compact design that allows easy setup and maintenance. Components can be assembled and replaced directly in the field. The VisuNet GXP series offers two display versions (19", 21.5") and brings the world's lightest remote monitor into Zone 1/21 life science applications. Approved for: Zone 1/21, Zone 2/22, CL I, II, III, Div. 2.
The VisuNet GMP series is especially designed to meet GMP (good manufacturing practice) guidelines. With a gapless, stainless steel housing, the surface is very easy to clean. There are three display sizes available: 19", 21.5", 22". A wide variety of mounting accessories complements the GMP series. Approved for: Zone 2/22, non-hazardous areas.
The VisuNet IXD series offers rugged, lightweight HMI systems for Zone 1/21 outdoor applications. It is optimized for use in harsh environmental conditions that require an extremely rugged device. The 19" high-brightness display allows optimal viewing in high ambient light. Approved for: Zone 1/21.
The VisuNet IND systems are versatile, low-profile HMI systems for a broad range of Zone 2 and Div. 2 industrial applications. They offer a wide variety of communication technologies and are shock and vibration resistant. With four display versions (15", 19", 21.5", 22"), you can choose the right size for your individual space availability. Approved for: Zone 2, CL I, II, III, Div. 2, non-hazardous areas.
The VisuNet XT series offers tough panel PCs optimized for Zone 2/22 and Div. 2 oil exploration and extraction applications. With a 357 marine-grade aluminum housing, they can withstand extreme environmental conditions. The high-performance PC is available with two display versions (15", 19"). Approved for: Zone 2, CL I, II, III, Div. 2, non-hazardous areas.
The VisuNet Edge series offers all-weather workstations optimized for washdown areas up to Zone 1 / Div. 1. An antimicrobial and chemically resistant keyboard with various mouse options completes the workstations. Approved for: Zone 2, Div. 2, Zone 1, Div. 1, non-hazardous areas
Pepperl & Fuchs Videos
Customized Sensor Solution for Shuttle System
Pepperl&Fuchs Success Story
Simply Explained: Ex d and Ex e—2 Explosion Protection Types
Pepperl+Fuchs Factory Automation products—inductive, capacitive, photoelectric and ultrasonic sensors; ID systems; AS-Interface; rotary encoders; and zone scanners—are used in a wide variety of markets and applications in industrial automation for the material handling, packaging, automotive, metal forming, printing, and mobile equipment industries. Reach out to Gibson Engineering to learn more about P&F products today!