Robotunits Aluminum Extrusion: A Guide
When your manufacturing company needs aluminum extrusion services, efficiency and accuracy are of the utmost importance. Robotunits manufactures a Modular Automation System for production equipment with aluminum extrusion as the key element. The Robotunitunits adheres to the concept of "more with less" to ensure the maximum possible solutions with the least possible number of components. This design saves manufacturers significant time and costs, from design and storage to training and assembly.
Robotunits extrusion technology ensures manufacturing efficiency by increasing throughput and reducing downtime. This guide explains Robotunits aluminum extrusion and why it may be the best choice for your business's machine frames, guards or conveyor needs.
What is Robotunits Aluminum Extrusion?
Robounits aluminum extrusion is Robotunits' metal components that make up machine frames and structures within a manufacturing automation system. Aluminum extrusion is at the core of the Robotunits Modular Automation System. Robotunits' extrusion and fastening technology are multifunctional, enabling assembly that meets any extrusion or framing requirement. This unique extrusion technology offers the greatest amount of design and assembly opportunities while minimizing time expenditure.
Robotunits aluminum extrusion is designed for industrial guarding, machine frames and various other applications. A standard slot size used with both base profiles enables new assembly dimensions while providing vibration-safe connections and up to 4 tons of tensile strength.
Consider what makes Robotunits extrusion and fastening technology unique:
Robotunits Extrusion Technology
Robotunits extrusion technology comes in two base sizes — 40-millimeter (mm) and 50 mm. The entire extrusion system, reaching 80 mm, is built on these two base sizes. The Robotunits aluminum extrusion series feature lifelong vibration resistance and a tubular honeycomb design for outstanding load resistance. The 40 mm Extrusion Series is ideal for machine guarding, lightweight machine frames and other applications. The 50 mm Extrusion Series has a higher load capacity ideal for heavy-duty machine-building applications.
A notable feature of both Robounits aluminum extrusion profile sizes is their flexibility and compatibility with all other extrusions. Both the 40 mm and 50 mm extrusion series fastening systems include a uniform 14 mm T-slot, enabling their use with all extrusions. This design allows manufacturers to construct assemblies in new dimensions at a fraction of the time that other extrusion brands would take.
Robotunits aluminum extrusion technology boasts outstanding torsion, load resistance and a concave extrusion surface for superior vibration resistance.
Robotunits Fastening Technology
The adaptability of the Robotunits fastening technology enables time and cost savings in structure assembly. Manufacturers can vary machine guard design and readjust frame assembly using the same multifunctional fastening technology. Whereas other automation system manufacturers require new hardware for each extrusion size, Robotunits fastening technology reduces the hardware that manufacturers need to purchase. Compared with other system manufacturers, manufacturers using Robotunits fastening technology can decrease hardware by a factor of three.
What Is Robotunits Aluminum Extrusion For?
Robotunits aluminum extrusion are metal pieces designed for use in automation systems and machine frame design. Robotunits fastening technology provides unprecedented tensile strength, vibration resistance and load-bearing stability, making it an ideal solution for various machine frames and guards across industries.
Modular extrusion technology is highly flexible. Because each extrusion base profile and its corresponding fastening technology is compatible with all other extrusions, Robotunits extrusion technology enables adaptability in the mechanical design of production equipment. Manufacturers benefit from the flexibility to design a custom solution that uniquely meets their needs.
Robotunits extrusion technology use cases vary widely. From manufacturing equipment and workstations to material handling systems, Robotunits aluminum extrusion technology provides benefits in a range of production environments. This technology might be right for your company if you use:
Safety enclosures
Manual workstations
Modular belt conveyors
Belt conveyors
Machine guarding
Safety fences
Heavy-duty machine frames
The Benefits of Robotunits Aluminum Extrusion
Robotunits aluminum extrusion enables manufacturers to experience several benefits in the design and assembly of machine frames or guards. Here are a few of the most significant benefits that Robotunits aluminum extrusion provides over its competitors:
1. Reusability
Robotunits fastening technology uses standard screws and space-saving fasteners. Because the fastening system doesn't require drilling or milling, manufacturers can reuse the extrusions without additional material costs. Your company can also easily reposition struts without dismantling the frame.
2. Time and Cost Savings
Robotunits aluminum extrusion reduces assembly time so manufacturers can increase efficiency and spend time on more business-critical tasks. The only measurement a Robotunits engineering team needs to design and fabricate extrusions is the extrusion length, meaning no boreholes or drawings are required. The aluminum extrusion technology also reduces manufacturers' hardware expenses.
3. Vibration Resistance
Manufacturing applications often experience vibrations, which can weaken machine frame strength over time. Robotunits extrusion technology has a concave extrusion surface that provides superior, lifelong vibration resistance.
4. Maximum Stability and Strength
Connections in the Robotunits aluminum extrusion are centered, accurate and play-free for maximum stability. A single Robotunits fastener provides up to 4 tons of tensile strength, and its honeycomb structure creates outstanding load resistance.
5. Standardized T-Slots
The uniform 14 mm T-slots allow every base profile size to connect interchangeably.
How Gibson Helps Those Looking for Extrusion
To achieve success, manufacturers must look for every opportunity to improve efficiency and speed. A customized Robotunits extrusion solution that meets your business's exact specifications could solve your productivity needs. When your manufacturing company needs aluminum extrusion services, partner with Gibson Engineering. We are an industrial automation equipment solutions provider that works with clients to design and fabricate customized Robotunits modular extrusion to help you achieve your efficiency and throughput goals.
Gibson Engineering's experienced engineering team can conceptualize, design and build machine frames or guards. Whether you need a manual workstation, an accessory for your mobile robot or safety guarding around a larger automation cell, Gibson Engineering has the capability to work with your team to design a solution to meet your needs. Our team of engineers can help provide a production-ready solution to a simple assembly kit.
Why Choose Gibson Engineering?
You have several options for industrial automation solutions providers. Choosing Gibson Engineering brings a host of valuable benefits, including:
Years of experience: Since our founding in 1945, Gibson Engineering has been on a mission to provide top-quality customer support. Whether providing products or designing and engineering unique solutions, our experience in industrial automation gives us the expertise to meet our client's needs and provide solutions to their challenges.
Extension of your team: Gibson Engineering helps solve automation projects as an extension of your engineering team. Our accomplished engineers utilize our in-house robot lab to provide the highest product knowledge at the point of sale. We will work with you to provide exceptional service for every project.
Commitment to providing innovative solutions: Our customized solutions enable manufacturers to reduce risk, increase profitability and maximize return on investment (ROI). We embrace leading-edge technologies and utilize them to help our clients gain a competitive edge in the marketplace.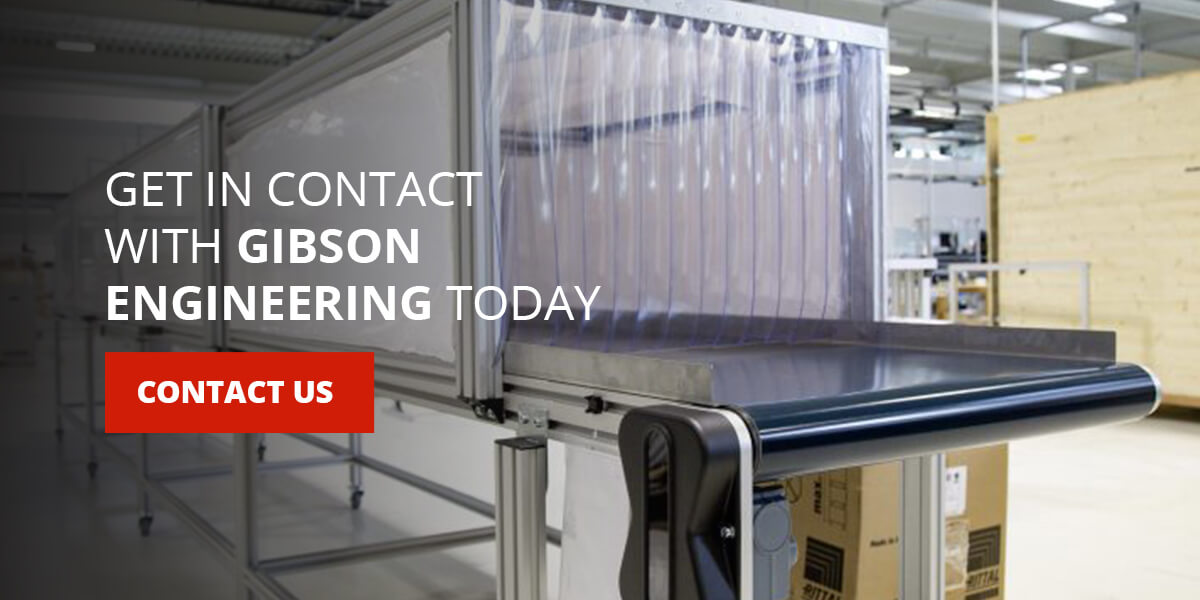 Get in Contact With Gibson Engineering Today
Increasing ROI, competitiveness and profitability are vital for manufacturers, and selecting Robotunits aluminum extrusion technology may provide the solution your company needs. Robotunits extrusion technology uses the manufacturing concept "more with less" to provide superior time and cost savings, reusability, vibration resistance and strength.
At Gibson Engineering, we offer a comprehensive selection of Robotunits modular extrusion technology and other automation solutions to help manufacturers succeed in their applications. Our in-house team of engineers works with customers to find the best solution for their aluminum extrusion needs. Gibson Engineering also offers custom design and fabrication capabilities of modular automation systems.
To review your business needs and consult our engineering experts on what Robotunits can do for your team, contact Gibson Engineering today.