MiR Mobile Industrial Robots
AUTONOMOUS MOBILE INDUSTRIAL ROBOTS
Mobile Industrial Robots are user-friendly, flexible and safe robots to help companies increase the efficiency of their operations. These autonomous robots are a new generation of advanced mobile robots which give you a rapid return on investment, often with a payback period of less than a year.
Featured Technology
MiR250™
The MiR250 is a more flexible AMR that can work around the clock and is brilliantly simple to setup, for improved productivity. Its smaller footprint and increased adaptability help optimize internal logistics without changing layout..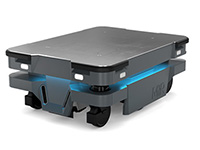 MiR1000™
MiR1000™ is the most robust robot that Mobile Industrial Robots offers to date, with a payload of 1000 kg (2,200 lbs). MiR1000 picks up, transports and delivers pallets autonomously with the MiR1000 pallet lifts, and ensures a smooth, safe, and efficient transportation of your pallets.
Product Solutions
Getting Started With MiR
Step 1: Unpack & Connect
Step 2: Create & Clean a Map
Step 3: Edit a Map & Create Positions
Step 4: Create & Run a Mission

Application Videos & Case Studies
Transport Anything Anywhere
Pallet Fork Application
Argon Medical: Cleanroom Case Study (USA)
Flex Product Innovation Case Study
Magna-Power Case Study (USA)
Honeywell Case Study (USA)

Optimize your workflows with the mobile robots from MiR
Why the MiR robots will fit into your business
Safe:
Collaborates safely with people
Avoids static and dynamic obstacles
Complies with relevant safety standards
Scalable:
Fast and central configuration of fleet of robots with MiR Fleet
Easy to add new robots to your fleet via shared data between robots
Traffic flow between robots is coordinated efficiently
Easy to integrate:
Fast and cost-efficient deployment without disruptions to existing processes or layout
Can be programmed via the user-friendly robot interface without prior programming experience
Flexible:
Open platform and easy to customize with different top modules
Possibility of our of the box solutions from MiR or from 3rd parties in MiRGo
Efficient:
Navigates in highly dynamic environments
Chooses the most efficient path and calculates alternatives
Multiple pickup and delivery points
Agile:
Easy to modify the robot's setup when the factory floor or processes change
Fits into most environments and can move in narrow spaces, drive up ramps, take the elevator and more

Training Options
Learn more about our classroom-based training on the MiR Products:
MiR Basic 1 Day Training
VIEW DETAILS