MiR Mobile Industrial Robots
AUTONOMOUS MOBILE INDUSTRIAL ROBOTS
Mobile Industrial Robots are user-friendly, flexible and safe robots to help companies increase the efficiency of their operations. These autonomous MiR robots are a new generation of advanced mobile robots which give you a rapid return on investment, often with a payback period of less than a year.
Featured Technology
MiR250™
The MiR250 is a more flexible AMR that can work around the clock and is brilliantly simple to setup, for improved productivity. The MiR250 has a smaller footprint and increased adaptability to help optimize internal logistics without changing layout..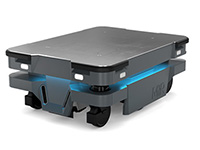 MiR1350™
The MiR1350 is the most powerful AMR from MiR to date. The MiR1350 is compliant with the highest available robot standards making it superior to other AMRs on the market.
Pick-up, transport and deliver pallets or other heavy loads automatically and efficiently with the heavy-duty mobile industrial robots.
MiR Product Solutions
Getting Started With MiR
Step 1: Unpack & Connect
Step 2: Create & Clean a Map
Step 3: Edit a Map & Create Positions
Step 4: Create & Run a Mission

MiR Application Videos & Case Studies
Transport Anything Anywhere
Pallet Fork Application
Argon Medical: Cleanroom Case Study (USA)
Flex Product Innovation Case Study
Magna-Power Case Study (USA)
Honeywell Case Study (USA)
What Are MiR Robots?
As robots increasingly replace manual labor, MiR offers robust products to help your facility move into the new era of logistics operations. Mobile Industrial Robots has an extensive product inventory to automate and streamline your workflow by delivering innovative solutions to match your operational requirements. The company's mobile robot products focus on optimizing your critical logistics management needs, particularly material handling and internal transportation.
As a leading manufacturer of collaborative mobile robots, MiR focuses on creating innovative, safe, and intuitive technologies to work with your logistics needs. Serving clients worldwide, the company delivers highly efficient solutions that help save on labor costs while providing seamless functionality.
Many different industries leverage MiR robots for their applications, including health care, automotive, and a range of other manufacturing sectors. MiR can support operations for small to midsize manufacturers and large-scale distributors. MiR robots come in several different configurations to meet critical operating needs on the ground at your facilities. From managing heavy-duty towing jobs to autonomous pickup and drop-off, the range of MiR robots available for your requirements can manage diverse applications and loads.
Products MiR Offers
To address critical operational requirements for clients across industries, MiR offers an extensive selection of products. The mobile industrial robots and other solutions they have available include:
MiR EU Pallet Lift 1350 for autonomous EU pallet pickup and drop-off
MiR100 for cost-efficient management of smaller loads
MiR1350 for maximum power
MiR250 for versatile robot towing requirements
MiR600 for optimized performance and robot operating standards
MiR250 for optimal productivity
Add-ons for robot customization to fit your application
Advantages of MiR Solutions
Industrial robots from MiR offer several key operational advantages to address user applications:
Optimized internal logistics: With streamlined robotic management solutions, addressing material handling and transportation logistics is faster and easier.
Reduced manual labor: By taking over repetitive or mundane tasks, these robots free up employees to complete more high-value work.
Increased efficiency: With robots handling heavy loads and demanding logistics requirements, you can optimize efficiency at your facilities while protecting workers' safety.
Minimized error: Robotic operations have low error rates to help ensure your facility runs smoothly and accurately.
Uses of MiR Products
Collaborative and autonomous robots can serve in a range of applications for various industries, helping to improve overall workflow and productivity on the ground. Some primary uses of MiR solutions include:
Automating material transportation across warehousing and material handling work sites
Carrying heavy loads between locations
Handling menial tasks so workers can focus on other high-priority jobs
Managing high-risk tasks to protect workers on the floor
Optimize your workflows with the mobile robots from MiR
Why the MiR robots will fit into your business
Safe:
Collaborates safely with people
Avoids static and dynamic obstacles
Complies with relevant safety standards
Scalable:
Fast and central configuration of fleet of robots with MiR Fleet
Easy to add new robots to your fleet via shared data between robots
Traffic flow between robots is coordinated efficiently
Easy to integrate:
Fast and cost-efficient deployment without disruptions to existing processes or layout
Can be programmed via the user-friendly robot interface without prior programming experience
Flexible:
Open platform and easy to customize with different top modules
Possibility of out of the box solutions from MiR or from 3rd parties in MiRGo
Efficient:
Navigates in highly dynamic environments
Chooses the most efficient path and calculates alternatives
Multiple pickup and delivery points
Agile:
Easy to modify the robot's setup when the factory floor or processes change
Fits into most environments and can move in narrow spaces, drive up ramps, take the elevator and more

MiR Training Options
Learn more about our classroom-based training on the MiR Products: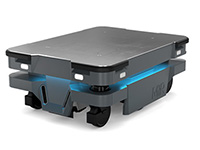 MiR Basic 1 Day Training
VIEW DETAILS
Compatible Robot Top Modules
Flexible module solutions developed and designed to solve any material transportation tasks with the MiR Mobile Robots. ROEQ solutions utilize the full potential of the MiR robots by significantly reducing the "distance" from buying a MiR robot to actually integrating it in production!
Get Customized Solutions With Gibson Engineering
MiR robots can provide a range of capabilities for your logistics operations. From the flexible MiR250™ to the full-scale MiRFleet™ robot control system, the company's products equip your facility with improved material handling workflow and process planning.
Gibson Engineering is here to serve as the right arm of your engineering team, developing innovative solutions that fit your processes. We can source automation equipment for your specific applications by working with an extensive selection of high-quality vendors. We can also build custom systems from our vendors' products to fit your operations if needed.
Whatever your requirements, Gibson Engineering brings a highly experienced team to troubleshoot, innovate and optimize at your facilities. To learn more, speak with one of our representatives about our support services.