MiR Mobile Industrial Robots
AUTONOMOUS MOBILE INDUSTRIAL ROBOTS

Mobile Industrial Robots are user-friendly, flexible and safe robots to help companies increase the efficiency of their operations. These autonomous robots are a new generation of advanced mobile robots which give you a rapid return on investment, often with a payback period of less than a year.
Featured Technology
MiR200™
Automate your internal transportation and logistics, easily and cost-effectively. The highly flexible MiR200 autonomously transports up to 200 kg (440 lbs). It can be mounted with customized top modules such as bins, racks, lifts, conveyors or even a collaborative robot arm—whatever your application demands.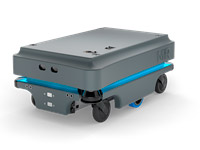 MiR1000™
Optimized Internal Transportation of Pallets and Heavy Loads. The new MiR1000™ is the most robust robot that Mobile Industrial Robots offers to date, with a payload of 1000 kg (2,200 lbs). MiR1000 automatically navigates around obstacle, and is able to re-route to avoid stopping or delaying the delivery of materials.
Product Solutions
Videos
Transport Anything Anywhere
Pallet Fork Application
Automates warehouse-to-cleanroom