MiR Mobile Industrial Robots
AUTONOMOUS MOBILE INDUSTRIAL ROBOTS

Mobile Industrial Robots are user-friendly, flexible and safe robots to help companies increase the efficiency of their operations. These autonomous robots are a new generation of advanced mobile robots which give you a rapid return on investment, often with a payback period of less than a year.
Featured Technology
MiR250™
The MiR250 is a more flexible AMR that can work around the clock and is brilliantly simple to setup, for improved productivity. Its smaller footprint and increased adaptability help optimize internal logistics without changing layout..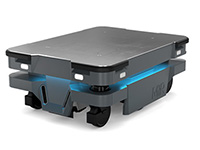 MiR500 Lift
MiR500 Lift ensures stable handling and transport of 40" x 48" pallets, shelves units and much more. It enables the MiR500 to lift pallets autonomously from the MiR Lift Pallet Rack and lowers the pallet for stable transportation of payloads up to 500 kg.
Product Solutions
Videos
Transport Anything Anywhere
Pallet Fork Application
Automates warehouse-to-cleanroom