COLLABORATIVE ROBOT GRIPPERS, SMART END-OF-ARM TOOLING

OnRobot provides innovative Plug & Produce End-of-Arm Tooling for collaborative robots. Download product guide
Product Series
The RG2 Gripper eliminates the headache by installation kits and works without any external cables, so any robot movement can be carried out without worrying about cable placement. RG2 Collaborative grippers are the true Plug & Produce solutions. Also available in Dual Gripper configuration.
The RG6 Gripper is a collaborative End-of-Arm Tooling designed for a seamless integration with the collaborative robot arms from Universal Robots. It provides a gripping force from 25N to 120N and gripping stroke e from 0mm to 160mm. Also available in Dual Gripper configuration.
You can automate high precision assembly tasks with OnRobot RG2-FT. The inbuilt 6 axis F/T sensors at the fingertips provide extremely accurate gripping for better production quality.
Compact, lightweight Gecko Single Pad Gripper requires no cables, electricity, air, or programming for cost-effective, plug-and-play performance. Innovative adhesive gripper for flat, smooth, or perforated objects automates tasks that were previously not possible.
3FG15 provides accurate centric positioning which drives higher quality, consistency, and output with minimal programming. They feature strong, stable grip and 3 contact points makes gripper fast and easy to redeploy for multiple processes. Accomplish more with customizable fingertips to flexibly grip a wide range of part sizes and shapes.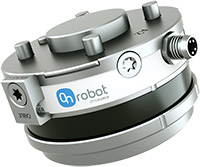 OnRobot 6-axis force torque sensors provide 6 degrees of freedom force and torque measurement. Integration with various available interfaces is simple. Common applications are force control devices, teach-in activities and crash detection, but the sensors can be used next to end-effectors in case of grinding, polishing or deburring tools.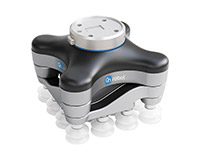 The VG10 vacuum gripper is an End-of-Arm Tooling specially designed for collaborative robot applications. The flexible arms and adjustable vacuum enable the VG10 to handle a variety of objects in many different sizes. The gripper comes with dual grip functionality, tool changer and a variety of typical vacuum cups.
The Quick Changer is a product for easy and fast tool changing. It is fully collaborative with no sharp edges, which makes it easy and safe for human interaction. The Quick Changer can handle 10kg payload and has a low built-in height and weight.
With the Dual Quick Changer, you can now use two tools in one cycle, achieving higher utilization of your robot.
Soft Gripper food-grade certified and dishwasher-safe, gently handles irregular shapes and delicate items, from eggs to fruit, bottles or irregular-shaped items up to 2.2kg. It's easy to implement on any leading robot, and there's no air supply required; so no noise, no dust.
OnRobot's new flexible and adaptable 2.5D vision system, Eyes offers depth perception and parts recognition for many pick-and-place applications where orientation is important. Quickly and easily add vision to robotic applications with one-picture calibration, fast programming and seamless gripper integration with this affordable, efficient 2.5D vision offering depth perception for varying heights or stacked objects.
You can easily automate assembly processes with the new intelligent OnRobot Screwdriver for light industrial and collaborative robots. Intelligent error detection and multiple screw size handling will ensure consistent results and reduce your cycle time dramatically.
Simply mount the Screwdriver on any leading robot arm and install the appropriate bit, then enter screw length and torque directly into the robot's user interface.
Videos
OnRobot RG2 and RG6 Grippers