OnRobot provides innovative plug-and-produce end-of-arm tooling (EoAT) for both collaborative and standard industrial robots. Every OnRobot gripper solution is designed to be easily installed on any robot and programmed quickly. This flexibility enables your team to deploy your next automation application faster so you can realize your ROI sooner.
OnRobot Product Series
The RG2 Gripper eliminates the headache of installation kits and works without any external cables, so any robot movement can be carried out without worrying about cable placement. RG2 Collaborative grippers are the true plug-and-produce solutions. Also available in Dual Gripper configuration.
Features
Fast installation on any robot - collaborative or industrial
Simple programming
Large stroke and force-based gripping
Customizable fingertips to fit the object's shape
Dual gripper configuration
Benefits
Reduced deployment time by using the same setup for different tasks
Can handle large process variations — use one OnRobot gripper for multiple applications
Able to perform complex tasks
Increases productivity
Cost-effective
The RG6 Gripper is a collaborative EoAT designed for seamless integration with the collaborative robot arms from Universal Robots. It provides a gripping force from 25N to 120N and gripping stroke e from 0mm to 160mm. Also available in Dual Gripper configuration.
Features
Adjustable fingertips to fit the product
Quick programming
Ideal for collaborative robots
Benefits
Replace manual processes and strenuous tasks
Use one gripper for every product, no matter the size
Cost savings by eliminating the need to purchase multiple OnRobot grippers
You can automate high-precision assembly tasks with OnRobot RG2-FT. The inbuilt six-axis F/T sensors at the fingertips provide extremely accurate gripping for better production quality.
Features
Built-in intelligence and sensing abilities
Integrated force-controlled insertion software
Built-in forced talk sensors at gripper fingertips
Customizable fingertips
Flexible gripping
Proximity sensor to detect and center the robot arm and gripper around the object
Benefits
Precise gripping to handle objects of different sizes and shapes
Easy to set up complex tasks
Supports agile production
Collaborative with human input and operation
Compact, lightweight Gecko Single Pad Gripper requires no cables, electricity, air or programming for cost-effective, plug-and-play performance. Innovative adhesive gripper for flat, smooth or perforated objects automates tasks that were previously not possible.
Features
Plug-and-play performance requiring no electricity, programming, air or cables
Lightweight unit with a small form factor
Innovative adhesive no-mark gripper
1kg, 3kg and 5kg payload options
Benefits
Compatibility with flat, smooth or perforated objects and glass and shiny surfaces
Use with many types of robots
Automate tasks you couldn't before
Promotes cost-effectiveness by reducing operating expenses
Improves productivity and ROI
3FG15 provides accurate centric positioning, which drives higher quality, consistency and output with minimal programming. They feature a strong, stable grip and three contact points to make the gripper fast and easy to redeploy for multiple processes. Accomplish more with customizable fingertips to flexibly grip a wide range of part sizes and shapes.
Features
Large-stroke OnRobot gripper
Three contact points for a strong and stable grip
Customizable fingertips
Internal and external grip
Accurate centric positioning
Flexible gripping for small objects
Precise handling
Benefits
Higher quality, consistency and output
Compatibility with multiple part sizes and shapes
Customizable setup options
Ideal for CNC machine tending
Simple redeployment for multiple processes
Works with many types of robots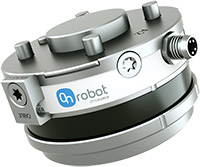 OnRobot 6-axis force torque sensors provide six degrees of freedom force and torque measurement. Integration with various available interfaces is simple. Common applications are force control devices, teach-in activities and crash detection, but the sensors can be used next to end-effectors in case of grinding, polishing or deburring tools.
Features
Optical-based technology
Easy-to-install graphical user interface
Advanced force control
Hand guiding and path recording
Benefits
Get high-quality work quickly
Complete tasks requiring dexterity and sensitivity
Easy deployment and lower number of engineering hours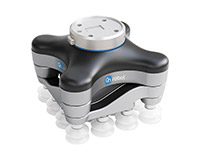 The VGC10 vacuum gripper is an EoAT specially designed for collaborative robot applications. The flexible arms and adjustable vacuum enable the VGC10 to handle a variety of objects in many different sizes. The gripper comes with dual grip functionality, a tool changer and a variety of typical vacuum cups.
Features
Compact and flexible unit
No external air supply
Power for objects up to 15kg
Unlimited customization options
Benefits
Fits in tight and hard-to-access areas
Works for many applications and robots
Low maintenance costs
Fast deployment
With the Dual Quick Changer, you can now use two tools in one cycle, achieving higher utilization of your robot.
Features
Grip detect feedback
Large and adjustable strokes
Adjustable stroke gripping
Gentle force-based gripping
Depth compensation for different-sized items
Dual gripper can be used for multiple purposes
Benefits
Sort items of different sizes and heights
Handle multiple items at once
Increases productivity
Use for pick and place applications, including handling fragile items and stacking packed goods
Soft Gripper is food-grade certified and dishwasher-safe. It gently handles irregular shapes and delicate items, from eggs to fruit, bottles to irregular-shaped items up to 2.2kg. It's easy to implement on any leading robot. Since there's no air supply required, Soft Gripper will make no noise, no dust.
Features
Flexible silicone-molded gripper
Handles irregular shapes and delicate objects
No external air supply
Benefits
Simple to set up and operate
No dust or noise during operation
Higher production quality
No additional costs
Reduced waste
Use for food and beverage automation
Compatible with many robots
OnRobot's new flexible and adaptable 2.5D vision system, Eye offers depth perception and parts recognition for many pick-and-place applications where orientation is important. Quickly and easily add vision to robotic applications with one-picture calibration, fast programming and seamless gripper integration with this affordable, efficient 2.5D vision offering depth perception for varying heights or stacked objects.
Features
Depth perception
Automatic focus
One-picture calibration and part recognition
Adjustable robot and external mount
Benefits
Flexible and adaptable vision system
Easy to set up and deploy
Multiple configuration options
Seamless integration with OnRobot tools
Compatible with many robots
Use Cases
Make sorting tasks less complex
Handle multiple items at various heights
Stack and unstack packaged goods
You can easily automate assembly processes with the new intelligent OnRobot Screwdriver for light industrial and collaborative robots. Intelligent error detection and multiple screw size handling will ensure consistent results and reduce your cycle time dramatically.
Simply mount the Screwdriver on any leading robot arm and install the appropriate bit, then enter screw length and torque directly into the robot's user interface.
Features
Precise torque settings
Built-in protective functions
Embedded axis
External automatic feeding system
Handles many screw sizes
Benefits
Versatile and flexible
Easy to program
Increases productivity
Out-of-box deployment
Compatible with several robots
Use Cases
Automate complex assembly processes
OnRobot Sander is an out-of-the-box all-electric random orbital sander for automating finishing applications, including sanding and polishing. With no compressed air, low operating costs and unrivaled ease of use, the brand new OnRobot Sander solution will ensure a consistently perfect finish and spare your workers from repetitive and straining tasks.
Features
Multiple path recording options
Powerful performance
Fully electric — no compressed air needed
Several sanding and polishing pad options with Grit Changer option
Benefits
Flexibility
Fast and easy setup
Reduces operation and maintenance costs
Compliant with local health and safety regulations
Compatible with many robots
Use Cases
Use with many materials and geometrics
Fully automate the workflow
Reduce operator tending frequency
OnRobot's 2FG7 is a complete, low-cost, off-the-shelf electric parallel gripper that can be deployed within minutes and requires no custom engineering for installation, programming or maintenance. The 2FG7 is easily redeployed on any major collaborative or light industrial robot, making it ideal for low-volume, high-mix production and enabling fast ROI for many different applications.
Features
High grip strength
Small footprint
IP67 rating for harsh environments
ISO Class 5 certified for cleanroom use
Customizable options
Benefits
Fits into tight spaces
Production-ready for fast ROI
Change settings to fit the task
Compatibility with many robots
Use Cases
High payloads
Low-volume, high-mix production
Use the same gripper for multiple applications
With payloads up to 20kg (44.1 lbs), the OnRobot VGP20 is the world's most powerful electric vacuum gripper. It is ideal for quickly and cost-effectively automating the palletizing of cardboard boxes, as well as handling bulky, porous, and irregularly shaped objects. The VGP20 allows unlimited customization, so it can automate a wide range of applications that traditionally required pneumatic grippers, but at a fraction of the cost and complexity. The VGP20 can save up to 90% on operating and maintenance costs compared to traditional pneumatic gripper deployments. high-mix production, and enabling fast ROI for many different applications.
Ideal for handling unusually shaped parts in press-tending and bending applications, MG10 magnetic grippers can manage a part throughout the entire process. MG10 easily handles metal blanks, punched steel parts or perforated metal sheets and can be used for destacking and separating sheets or palletizing metal parts. The built-in proximity sensor detects part presence. With adjustable force and grip detection, the MG10 is ready to use out-of-the-box.
Features
Configurable force
Part detection
Maintains grip on a workpiece in all conditions, including power outage
No external air supply or cabling
Benefits
Out-of-the-box deployment
Minimal maintenance requirements
Safe and reliable operation
Use Cases
Collaborative applications like material handling, assembly and machine tending
Use with many part sizes, shapes and weights
Manufacturing, automotive and aerospace applications
VGP20 is the world's most powerful electric vacuum gripper, with payloads up to 20kg (44.1 lbs) and none of the cost, complexity and maintenance of pneumatic grippers. The VGP20 is ideal for palletizing cardboard boxes, including those made with thinner, more porous recycled cardboard, as well as bulky and irregularly shaped shipping bags. That helps shippers save even more while also reducing waste.
The OnRobot Lift100 is a long-stroke, high-payload robot elevator that adds a versatile seventh axis to traditional and collaborative six-axis robot arms. The Lift100 has minimal deflection, even with higher loads and at high speeds, to ensure precise positioning of boxes in palletizing applications. Its integrated safety features, with stop functionality (TÜV certification pending), allow collaborative deployment with human workers (once a risk assessment has been performed).

OnRobot Application Videos & Case Studies
Automating Quality Inspection
Automate CNC Machine Tending with OnRobot Dual Grippers
Collaborative Automation Ensures Even Cleaner Products in a Shorter Time
Compatible with our Robot Brands
OnRobot products open up new automation possibilities with their cutting-edge gripping and sensing technology. Their simple single system allows any team with any robot to get up and running quickly so that they can reach their ROI earlier.
Gibson Engineering will help you find and implement the OnRobot product your operations need. As a distributor of industrial automation equipment, we have an in-house engineering team with extensive knowledge about robotics and programming. We offer the support and training you need for success with your OnRobot product.
Contact the Gibson Engineering team to learn more about these EoAT products and to test one out for your next robot application!